Posted on April 28, 2009
There are those of us who, before making any decisions, search the universe for a sign – whether it be in the stars, a change of circumstances, the words of an intimate acquaintance…
And sometimes, you are given a sign you aren't even looking for.
For those of you following the saga, I still have yet to rejoin the working world, but this has been far from a depressing time. I have health insurance, savings from before the financial tsunami, the support of my friends and family…I've been using this time to explore my creative side – poetry, songwriting, etc, etc. Still, when my father told me about a chance encounter on the subway with a woman running "an internet startup", I thought something interesting might come of it.
She called him the next day, eager to meet with me after he told her of the web development work I did with Lehman Brothers. Then I gave her a call, asking her a few basics about her company.
"It's kinda hard to explain. It would be great if you could attend our presentation Sunday night."
That probably should have been my first clue. But, having been around startups enough, I can understand the need for not giving away too much of your business plan and trade secrets. I was curious enough to sacrifice a night of Masterpiece Theater to find out more. She even offered to pick me up, saying that she believed in "minimizing traffic on the road".
Fast forward to Sunday evening. She swings by, makes small talk with my dad, and even invites him along to see the presentation. That should have been my second clue. My father is an accountant for an insurance company – what possible role could he play. Curious himself, he decided to hop in and join us. After stumbling about on the Jackie Robinson parkway, we ended up on Jamaica Avenue, around 87th street, outside a cramped little "office". My third clue. Still, I'm a forgiving guy willing to give anybody the benefit of the doubt.
"I wanted to bring you here early to meet some people we're doing business with." She said, introducing me to some casually dressed, relaxed Asians who drank in the warm summer air, looking fresh out of college, without a care in the world.
Their stories were the same – they had worked 12-18 hours as a dry cleaner, a Time Warner technician, a UPS driver, and in 2-3 years, they had made enough money to retire. And magically, the money was "still rolling in".
My father and I looked at each other. There we were, in the middle of Woodhaven, sunday night, listening to a marketing scam.
Just to be polite, we sat in the first half hour of the presentation, then we suddenly experienced a "family emergency", and excused ourselves. On the J train back home, we laughed and shook our heads about it.
I'm taking this as a sign. For the past few weeks, I've seriously considered leaving engineering, IT, and the finance world behind for the pursuit of some more creative endeavor – my guitar, for example, at which I'm doing pretty well. For a moment, like a dog returning to its own vomit, I considered forgetting everything I'd learned over the past few months to return to that old, soulless (though familiar world). And I paid the price for it – a lost evening and subway fare back home.
Well, these days, that's a pretty cheap education.
» Filed Under Everything and Nothing | Leave a Comment
Posted on March 30, 2009
I've got to hand it to Last.fm. Not only are do they fill my speakers with new and interesting music, but they even manage to get me out of the house once in a while.
Last week, when I was killing time  browsing my profile, they kindly informed me that Emiliana Torrini (you've heard her if you've heard the ending theme of The Two Towers) was playing at the Hiro Ballroom on Saturday. Before you could say "Ticketmaster", I scooped up a couple of tickets and dragged a friend of mine down to Chelsea for a chance to see the Icelandic diva in person.
We waited nearly an hour in an evening so crispy it could cut your fingers. But as is always the case in New York City, the wait was not without event. Turns out the guy in front of me is a Lehman alum, currently working for Barclays Capital. After briefly reminiscing on old times, I found out that his team is using an application I wrote just before being shown the door.
What were the chances? – Ladies and gentlemen – I officially have a legacy!
I suppose that would go over really well in an interview ("See that trading app over there? Yeah, that was me…can you guys let me back in now?"), but as my friend quickly interjected – "Are you sure you want to work there again?"
Who knows? These days, I've learned to go with the flow (as long as it isn't taking me over a waterfall).
But I digress. As we in the standing room tip-toed to get a glimpse of her, Ms. Torrini pretty much sang most of the songs from her last two albums Fisherman's Woman and Me and Armini, in her hauntingly icy voice that yes, sounds somewhat like Bjork's. These ranged from folksy ("Lifesaver", "Nothing Brings Me Down"), to the reggae-influenced "Me and Armini", to power-pop ("Jungle Drum", "Gun"). She did an admirable job on all of these, but did best when her backing band hung back, and let her expressive voice weave itself around finger-plucked chords.
She can be a bit of a diva, though (no pun intended?) It was mildly amusing watching her get flustered after one of the guitars unexpectedly went out of tune, and after a fan demanded she perform "Unemployed in Summertime".
Perhaps the best part – bought a copy of "Me and Armini" from her tour manager for only $10 after the show. I've been listening to it all day today – I highly recommend it. This is what the music business should be like – an interchange between artist and fan; reasonable rates for top-quality music, no fat-cat music execs to keep warm.
» Filed Under Everything and Nothing, Music | Leave a Comment
Posted on February 17, 2009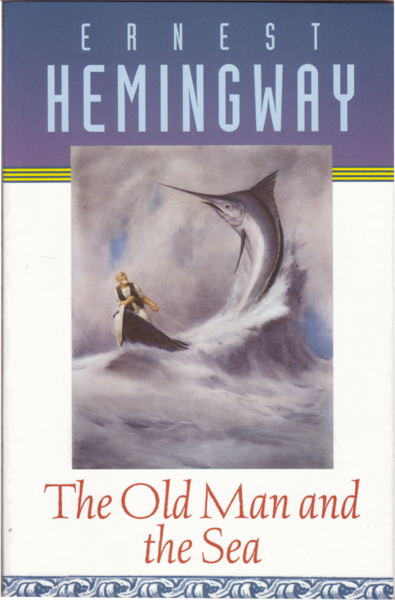 I could write an entire post about how good a novella The Old Man and the Sea is, but the Pulitzer Prize committee has conveniently done that for me. Suffice to say that reading Hemingway is like living a lucid dream, as ideas leap off the page into your head. And they stay there, like ribs between your teeth after a barbecue. By writing plainly, and not making the reader jump through literary hoops and ladders, Hemingway lets his ideas speak for themselves. And there are plenty in its 127 pages worth remembering.
The titular character is one of my favorites from recent memory. He is a poor Cuban fisherman whose glory days seem to be long past, but he could be any one of us, especially those of us reeling from this difficult year. His spirit is remarkable. He is lonely (though he has the touching adoration of a young boy), he is old, and he is salao , having gone for more than two months without catching any fish, but none of that stops him from picking up his mast, stringing his bait, and in general facing each new day as an opportunity to change his luck.
Being an optimist myself, of course I find all of that beautiful. However even more appealing than the old man's courage is his commitment to the moment. He draws spiritual energy from his dreams (the lions on the beach at dusk he saw as a youth), but he never lets nostalgia or wishful thinking hold him back, even during his epic struggle with a thousand-pound marlin in the middle of the Gulf Stream:
"You should have brought many things, he thought. But you did not bring them, old man. Now is no time to think of what you do not have. Think of what you can do with what there is."
It's a lesson all of us can do well to learn. How many times have we held ourselves back with thoughts of what might have been or what we could have done, instead of focusing on the present, which is the only time that really counts?
The ending is remarkably bittersweet. I won't spoil it for those who haven't had the  pleasure of getting that far, but perhaps it (and the whole story) is best summed up by these words.
"But man is not made for defeat. A man can be destroyed but not defeated."
Hope has many faces. There are those of us who dream of great things, but the fact of the matter is: most of us have to struggle even to get by. But if we keep up our efforts, even in the face of withering adversity, we have already won a first victory over failure.
» Filed Under Books, Everything and Nothing, Writing | Leave a Comment
Posted on February 12, 2009
If you roam the streets of the East Village, you might not even think there's a recession gripping the country. It was only the middle of the week,but the restaurants were filled, people walked around Union Square Park with steaming cups of Starbucks, and there was a nice-sized line in the theater to see Coraline, the new animated film written and directed by Henry Selick (not Tim Burton). My expectations were pretty high. And I came out pretty satisfied, though a few issues with the movie's pacing and later, darker, imagery might kill it for some. But I do think this film will have a lasting effect on the way movies are made.
Like most good children's stories, Coraline starts with a disaffected youth – Coraline Jones (voiced expressively by Dakota Fanning), who has just moved to an unfamiliar neighborhood. Her parents mostly ignore her, and the closest thing she has to a friend is Wybie, a neighborhood boy who skulks around in a welding mask. It isn't long before she starts exploring her new apartment, and stumbles upon another version of our world – one in which everyone and everything she knows seems to be perfect – or is it?
The story unfolds through stylish, colorful, stop-motion animation that may remind you of The Nightmare Before Christmas. One gets the sense that each of the charming characters and creatures was molded to fit its personality, from Coraline's long-necked, bookish father, to the generously proportioned Miss Forcible, an old lady who reads omens in tea-leaves when she isn't serving taffy made before the turn of the century. But it's the director's use of 3D that truly sets this film apart. Instead of going for the cheap thrills (creatures and people erupting from the screen), Selick uses 3D in a more subtle manner, adding depth to each scene, pulling our eyes further into Coraline's world so that after a few minutes, you'd be convinced you were watching a stage production or a pop-up storybook come to life. I'd go as far as to say it's the best 3D film I've ever seen – and a perfect guideline of what all movies that make you put on those funky glasses should try to achieve.
And it's clear that everyone had fun making this movie – when the inhabitants of the other world are showing off their charms to Coraline, there are few scenes where you won't laugh, cringe (in a good way!), or gasp at some animated sleight of hand. Unfortunately, the narrative suffers in the face of all the eye-candy – the second act dragged on longer than it should, and it felt a lot longer than its 1 hour and 40 minutes. Since it's being marketed as a children's film, I might also add that it has its share of very unsettling (though rarely crude or violent) moments that gave me the heebie jeebies. I happen to like the heebie jeebies, and don't believe in coddling kids, but if your little ones are prone to nightmares, consider yourself warned.
So, if you're a Tim Burton or Neil Gaiman fan, seeing this is a no-brainer. If you're not, you will still enjoy the raw creativity and imagination bubbling in each frame. And if you're making 3D movies – let this one show you how it's done.
» Filed Under Everything and Nothing, Movies, Writing | Leave a Comment
Posted on February 8, 2009
What can I say? I had a fantastic run – from late October to mid January, my sugar momma Barclays Capital so generously funded my unplanned journey of self-discovery. There were thoughtful moments, there were tears, and of course, plenty of lulz. But now, with severance a thing of the past and the economic Crysis in full swing, I venture into the wilds of the New York City job market. And that got me thinking – how much can you really tell about me from my resume? Yes, I've had interesting times with Bloomberg, L.P. and Lehman Brothers, but, like so many other members of my generation, my torrid affair with technology began long before then.
Though I'm a very vocal Mac fan, my first computer was actually not a Mac. My parents, being the practical accountants they were, got a PC – an old Leading Edge XT clone. Nothing builds computer literacy faster than a three-year-old navigating the DOS command line, hoping to find the Reader Rabbit directory. But what I remember most about that dinosaur was the Multimate word processor. Say what you will about Microsoft Word – at least it lets you start typing something within seconds. Multimate had you go through a long series of menus – to specify the type of document, the author, where it should be saved on disk, printing options….my dad never did figure it out. Five years later, having the time and tenacity of an eight-year-old (and still no computer of my own), I soon deciphered it, and learned how to type my homework on it. Needless to say, my parents were shocked and amused with this early display of competence.
Of course, my classmates and my teacher gave me queer looks when they saw my 80's-esque dot-matrix printouts, but nobody said a word. Money was tight for many in those days, and even basic computers weren't as cheap as they are now. And besides that, most of my friends were more interested in Super Nintendo and Sega Genesis anyway.
» Filed Under Books, Everything and Nothing | Leave a Comment
Posted on January 28, 2009
With all the buzz about the Amazon Kindle (and it's upcoming successor), I've received quite a few questions about its current features, the way I use it, and how much money I spend buying books for it, among other things. Rather than answer a bunch of ad-hoc questions like an embattled politician at a press conference, I figured I would write a more comprehensive profile about this electronic book reader and how it's changed (or hasn't) my reading habits.
I'll start by saying that I absolutely love this device. It almost perfectly reproduces the experience of reading an ink-and-paper book, but there are quite a few "gotchas" that you should seriously think about before buying one for yourself.
» Filed Under Books, Everything and Nothing | Leave a Comment
Posted on January 13, 2009
Quick Quiz: What can cause people young and old, rich and poor, to stare up into the night sky, mouths open in awe, smiling and clapping for sheer joy?
If you answered "alien invasion" or "nuclear detonation", you're only half correct. The almost primal joy a fireworks display can bring is quite fascinating; it's as if Disney, knowing our innate need to feel part of something greater than ourselves, has mastered the power of taking us back to the time when we sat on our father's shoulders, looking heavenwards and realizing that God is somewhere out there.
But I digress. Today's piece is about recording these displays in a way which reminds you of how spectacular they were.
I like this image. Nothing too spectacular going on technically (1/500 sec shutter at f/11, using my "nifty fifty" lens), but like most good photography, it was all a matter of decent timing – the flare of the torch, the brilliant descent of spent fireworks, and the smoke dissipating in the wind. It fills my head with grandiose notions – the Olympics, the gift of Prometheus, reading an Ayn Rand book…
» Filed Under Books, Everything and Nothing | Leave a Comment
Posted on January 2, 2009
The New Year's Resolution is as old as Judaism and usually is as empty as a politician's promise – do we really believe we'll make sweeping changes in our life just because the year has incremented by one? Still, this is more than just an exercise in cynicism. I can certainly understand the optimism behind the start of a new year – when nothing is certain, anything is possible. So instead of making promises I probably won't keep, I've thought of a few things I learned in 2008 that I should keep in mind for this, the last year of the decade.
Things I Need to Do (or face starvation, bankruptcy, and a possibly lower social standing)
Things I Should Keep in Mind
I am more than the sum of my paycheck, or the title on my business card.
Don't judge others. Or if you must, consider how far they've come, not just how far they have left to go.
The only person who should be allowed to make you feel guilty is yourself. But don't overdo it.
Think not of the twenty blocks to the subway station, but of your next step. And then your next after that, and so on.
Inspiration is merely the ignition to the engine of creativity. Both are useless if not fueled by discipline.
Shopping two days before Christmas is chaotic, deadly, and highly amusing.
And of course, feel free to yell at me if I forget any of these things.
» Filed Under Everything and Nothing | Leave a Comment
Posted on December 26, 2008
As my childhood fades into a pleasant memory, people often ask me what I miss most about it. Summer vacations, Pokemon Cards, and Mr. Softee are high on that list, but give me a moment to speak, and I'll go on and on about what I really miss – being invincible.
Yes, I realize it was an a completely unfounded assumption. According to UNICEF, more than 25,000 children die every day, and almost 800,000 go missing in the United States alone, many never to return. But what are statistics to the blessed obliviousness of a child? "It can never happen to me", we reasoned, each calamity-free day serving as testament to our unshakable truth. Of course, that naivete sometimes led us to do incredibly stupid things, but every night I went to bed, I was 150 percent sure I'd get up in the morning. And then the next, and the one after that, ad nauseam.
In some respects, growing up has been like being the protagonist of a Lovecraft novel. Much of my adolescent and adult life can be summarized by a near addict-like compulsion to learn more about this world. This has been a double-edged sword. On one hand, it strengthens me as an artist; pushing me just a little closer to living up to the name homo sapien. At the same time, acquiring such knowledge is not without consequence; as I browse through each blog, book, or Wikipedia entry, I've watched that old illusion (on which I based a perfectly happy childhood), completely disappear.
So far, I've avoided the madness that marks the climax of such tales. But at what cost? My life, previously governed by the question of "Why", has been transformed into an existence of "what-if's". What if my car skids into a tree faster than Mike Mussina's fastball? What if I walk down this dark street? What if my employer goes bankrupt? Well, one of those has come to pass, so I'm not entirely a worrywart. But it's interesting to think about how much of adulthood is based on the premise that something wicked lurks around every corner. Is this what it means to be responsible? Thinking about the ways every decision could kill me has helped me to avoid a pitfall or two, but more often than not, it has served as an excuse not assume any risk – even ones with a potentially great payoff. If I had been thinking less about paying the bills and more about following my dreams, for example, I might have done something more fulfilling than financial software development.
And so I gaze upon today's children with a nostalgic wonder. As they throw themselves into each new adventure and unopened door with a gusto that seems thoughtless to one of many summers, part of me smiles. The other part wants to shake them and yell "Dangit, don't you know you could die?!"
» Filed Under Everything and Nothing | Leave a Comment
Posted on December 24, 2008
Sorry folks, no profound thoughts today – just the random happenings of a random day.
"When something is lost, something greater is returned." I suppose when the great wordsmith Terry Pratchett wrote this, he was telling us to look for the good in the calamity of our life. However, if you're as disorganized I am, that saying takes a whole new meaning.
Namely, that when you're scouring your room for something (like an old PSP game), you find something much cooler instead (a $25 gift card). It had no obvious expiration date, and I was suffering a major case of cabin fever, having barely left the house since the end of October. You can guess what comes next.
That's right – Toys R' Us, Times Square, two days before Christmas. I am a certified madman.
One might compare the scene there to the evacuation of Dunkirk – a tense order barely imposed on the entropy of evacuating shoppers, most of which are tired, hungry, and seriously regretting their procrastination;  a sense of inevitability as you confront the giant evacuation checkout line that wraps several times around the department floor. There are children, nieces, nephews, and grandkids to surprise this Thursday, and so, economic crisis or not, it is a ritual they endure. Browsing for the best way to blow your $25 requires an ironclad will.
Ah, Christmas in New York. There is that tree in Rockefeller Center, Santa in Herald Square, and lights, banners, and wreaths on every street corner, but there's even more, if you know where to look.
It's waiting on that checkout line, watching with amusement as mommy restrains Junior from picking up every single game in sight.
It's staring at the billboards in Times Square for a whiff of news – two wars, a sinking economy, and a Madoff associate who took his own life for fear of being forced to live like the rest of us.
It's ducking into the withering cold, carrying half your body weight in oversized shopping bags, pushing your way through the crowds like blood cells in a coronary patient's heart.
It's riding downtown to Union Square, smiling at the booths selling various esoterica – from baby Buddhas to "Baby Seals for Obama" Tees.
It's lounging at a table at Starbucks, nursing a $6 latte in a red snowflake-labeled cup, waiting for your friends as the soles of your feet recover.
It's knowing that the area will never see such a burst of activity again – until it comes time to return all that swag.
It's meeting friends for dinner. "What're you up to these days?" "Oh, I'm…in between jobs". In between. Because the only meaningful definition of life is what happens to pay the bills at the moment.
But it's all a tradition we'll gladly cling to – holidays are a sort of anchor in the lives of many. Because even if we don't know whether we'll have a job tomorrow, we'll always have Christmas. Here's looking at you, kid.
» Filed Under Books, Everything and Nothing | Leave a Comment