Posted on September 17, 2008
My co-worker e-mailed me the below pic this morning.  It's nice to see that the rest of New York feels our pain: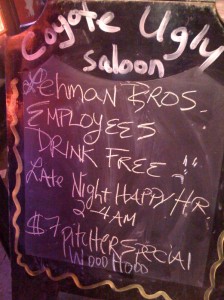 Meanwhile, in response to yesterday's news, the mood of the office has perceptibly shifted. Most of us seem to agree that since Barclays has purchased the company's headquarters, data centers, and Capital Markets units (including the investment bank), they will most likely want the IT behind these operations as well.
Of course, this is all purely speculation (and our wishful thinking). In the meantime, the boss has asked me to resume our development work – this is all very well, because frankly, I've been running out of ways to kill time!
One final note of delicious irony. According to the Wall Street Journal, Barclays paid about $1.5 billion for the firm's headquarters and data centers, but only $250 million for the business. So, after 158 years of independent operation, the business is worth less than A-Rod's contract. Even the headquarters and the servers the business ran on are worth more! Good job, Mr. Fuld.
» Filed Under Everything and Nothing, Work
Comments