Posted on November 15, 2008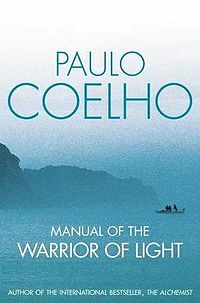 Two years ago, I finally got to reading a book everyone told me I ought to read – The Alchemist by Paulo Coelho, the bestselling Brazillian author. It was a short, but deeply moving tale with hard-hitting truths that belied its simplicity.
It was just as well that I read it then; as a soon-to-be college graduate, its lessons on following your dreams and Personal Legend especially resonated with me. Imagine my delight, then, to learn that Coelho wrote a companion to The Alchemist, called "Warrior of the Light". From the title, I was expecting something of a Cervantean romance, with a life-affirming quest, intriguing characters, and a rock-solid hero unfazed by even the largest of obstacles.
This past week, I read it – not what I was expecting!
Though the book begins with an intriguing fable about a boy searching for a temple under the sea, this frame story is quickly concluded, as the book soon reveals its raison d'être – teaching, instead of storytelling. Instead of another novel, Coelho has written a very personal treatise, summarizing his ideas on how how live a rich, fulfilling life. In the tradition of books such as The Art of War, Warrior of the Light is filled with page after page of thoughtful aphorisms meant to guide us through life's tough moments.
For example, Coelho has some encouraging thoughts on the importance of establishing a work/life balance:
"If the strings of an instrument are always taught, they go out of tune……that is why, even if he is not in the mood, the Warrior of the Light tries to enjoy the small everyday things of life".
For men and women of great responsibility, sometimes working in the shadow of our predecessors can be too much to bear. Or perhaps others take it upon themselves to consistently remind you just how much rides on your words and actions. Coelho reminds us that we don't need to have all the answers today:
"A responsible Warrior is not someone who takes the weight of the world on his shoulders, but someone who has learned to deal with the challenges of the present."
Some of the book's passages are especially relevant to today's climate. Having just gone through a rough election cycle, during which members from both parties attempted to paint each other as out-of-touch, incompetent, and sometimes just plain wicked, this reminder especially rings true:
"In order to have faith in his own path, he does not need to prove that someone else's path is wrong".
Occasionally, Coelho puts his own words aside and directly quotes other well-known thinkers, such as Chico Xavier and Lao Tzu. Just who are these Warriors of the Light? A character at the end of the frame story remarks that he is "someone capable of understanding the miracle of life, of fighting to the last for something he believes in." In other words, any of us who are willing to accept life's uncertainty and to struggle for what we believe in, whether we be artists, politicians, activists – or even ordinary people. This is the core of Coelho's philosophy – pursuing our dreams, holding true to our principles while doing so, and doing so while humbly accepting guidance from this world and above.
I think it's worth a read. Some may consider Coelho's thoughts to be "new-agey", but I think they're surprisingly very pragmatic, even if they err on the side of idealism. You may have heard some of these ideas before, from other philosophers and writers, but Coelho has a talent for making these teachings so warm and accessible, that you'll likely find yourself returning to them again and again, even if you're not into spirituality or philosophy.
Warrior of the Light – A Manual
» Filed Under Books, Everything and Nothing, Writing
Comments