Posted on December 9, 2008
Yesterday, 40A, Inc created quite a stir in the online community with the release of the Blackbird web browser – an African American web browser. Yes, you heard correctly. An African American web browser. Like Flock, it's a customized version of Firefox, featuring, among other things:
A scrolling "Black News" feed
A "black search engine", by way of the Blackbird website.
A "Blackbird Video" sidebar, with videos supposedly of interest to the black community.
So what's not to like? Of course, "a browser for the African American community" is a pretty big assertion, so it's not surprising that the program's already drawn some pretty hefty criticism. Some see it as an unnecessary attempt to shoehorn "black culture". Others question its necessity, saying that the Internet already has plenty of resources by and for the black community, without "segregating" users by browser.
Being black myself, I got curious. Well, I'm not strictly "African-American", but then again, the decidedly non-black Teresa Heinz Kerry technically is, so we all know how much labels are worth…
I tried to download it on my Mac – got a prompt to open an .exe (Windows Excutable). That's a strike against it already – I had to switch into Windows to give it a shot. Then I installed it – like Firefox, it automatically imports your bookmarks from Windows Explorer. After that, you get the browser window in all its glory (click for a larger version):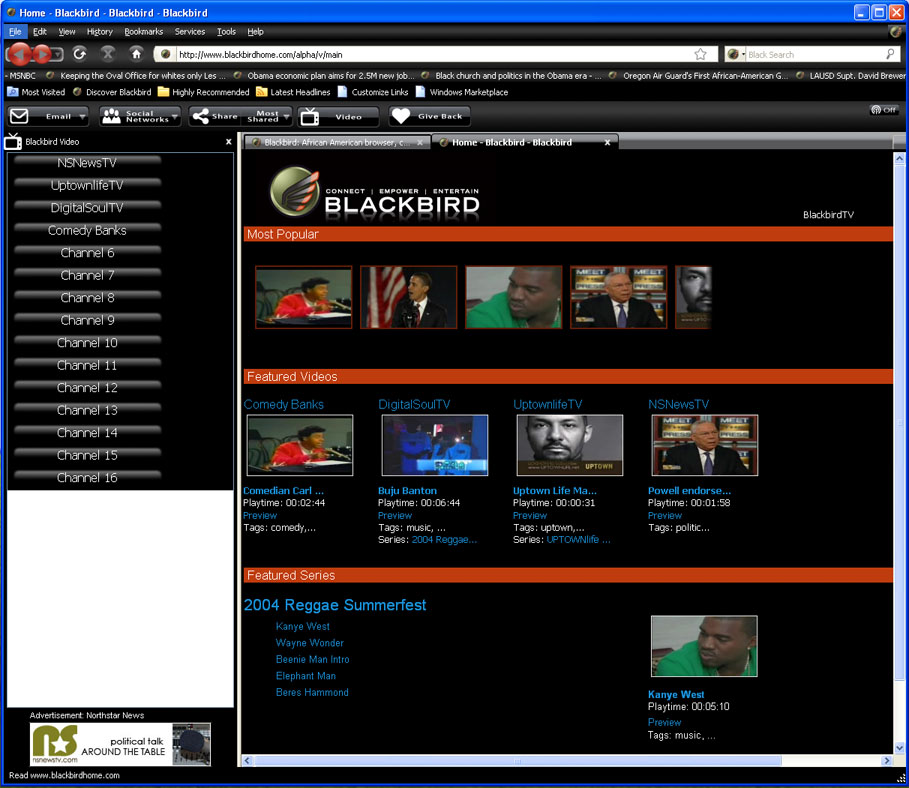 First thing that struck me – this African-American browser is way too black (no pun intended). Racial sensitivities aside, a black background on white text seriously hurts my eyes. I know I've been weaned on Apple's soothing industrial grays and off-whites, but the color scheme seems reminiscent of those bad "music managers" that came with our old MP3 players.
Second thing that struck me – it needs polishing. Not all the video channels were there yet, turning off the scrolling news feed was confusing, and parts of the preferences screen were illegible due to the aforementioned black/white color scheme. When I closed it, the program hung, and I had to use Task Manager to kill it before I could bring it back up. But this is a beta, so I'm pretty forgiving about things like this.
Third thing I noticed – Flock pretty much does all of this already, except it supports more services (Twitter/YouTube/Digg), and has some genuinely useful features, such as automatic online bookmarking to Delicious. At it's current state, I don't see what Blackbird has to offer that couldn't have been done as a Firefox extension, instead of a totally separate browser.
What truly caught my attention is the default "Black Search" engine that's on the upper right of the screen. Looking into it further, I saw that it's a Google Custom Search run by Blackbird to provide more "relavant" results to the black community.
Black search results? I try to see the good in everything, but I found this feature extremely condescending at best, misleading at its absolute worst. How does a company like Blackbird decide which websites are relevant to the African-American community? Are they sites run by black webmasters? Websites that lean a certain way on black issues? Websites run by companies who pay handsome fees? Either way, that means that Blackbird has moved beyond merely "skinning" the internet, to actively filtering its content! The flow of information should be race-agnostic, free from the dictates of a company attempting to define what is relevant to "the black experience".
So, except for that "Black Search" feature, Blackbird is a mostly harmless social media-enabled browser. But I find it curious that anyone would see the need to create one for the black community. Do we create black versions of Windows? Cell phones? Cameras? Race is an important part of this country's history, but I can't help but feel that designing an "African-American" browser cheapens that struggle just a little bit.
» Filed Under Everything and Nothing
Comments