Posted on December 16, 2008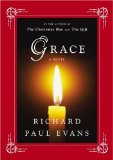 There have been only two books I've managed to read cover-to-cover in the span of a single day. Grace, by Richard Paul Evans, is the second, having devoured my entire Saturday. It's a Christmas tale, yes, but not one that will leave you feeling warm inside; about an America past, where dark secrets were buried under a veneer of stilted optimism.
This beautifully-written coming-of-age tale is narrated with a mix of nostalgia and regret by Eric, an aged man recalling his first autumn as a teenager in Salt Lake City. His account begins with the usual childhood exploits – exploring the neighborhood, working a crummy job, struggling to fit in at school – but his world is completely changed the night he finds a girl foraging in a dumpster for food. The girl, who calls herself Grace, says that she's run away "for kicks", but Eric, a kind-hearted boy, is too worried about her safety to worry about whether or not she's telling the truth. He and his brother Joel invite her to their "clubhouse", where their paralytic father and hard working mother are usually too busy with their own problems to notice.
As you might imagine, watching their relationship evolve is where the joy of this novel lies. At first, the boys treat her as a kind of pet, coming up with some clever schemes to keep her warm and fed, and hidden from the prying eyes of the adults around them. But a funny thing happens between boys and girls who spend a lot of time together, and as the dynamic between the lovably awkward Eric and the preternaturally wise Grace changes, all three have to face a plethora of obstacles –  jealousy, Eric's low self-esteem, and wanted posters of Grace appearing all over town; not to mention the raging Cold War ("The possibility of a nuclear holocaust was just something we carried around in the back of our minds, like an overdue library book", writes Eric), and their mutual sense of impending doom, as their secret becomes harder and harder to hide.
The ending is simply devastating, for readers and the characters alike. Evans clearly remembers what it's like to be as a teenager, as he absolutely nails his the depictions of Eric's contradictory feelings in its wake, including the moment he realizes he has crossed the threshold into adulthood. I finished it at 1 AM, and had trouble sleeping the rest of the evening; even late Sunday night, I found myself in tears, as memories reimmersed me in thoughts of young love and Grace's dreams of Hawaii. I thoroughly recommend this book, but please, oh please, keep a box of Kleenex handy.
» Filed Under Books
Comments