Posted on February 17, 2009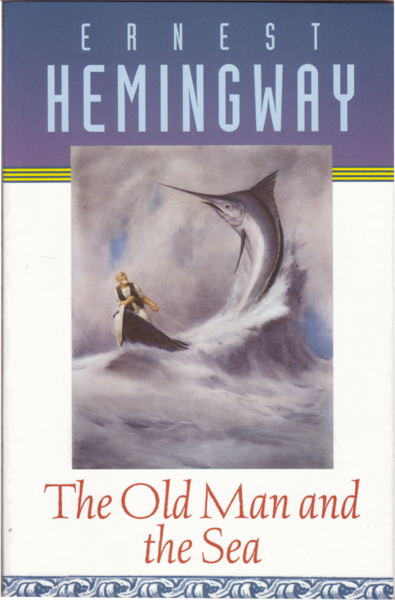 I could write an entire post about how good a novella The Old Man and the Sea is, but the Pulitzer Prize committee has conveniently done that for me. Suffice to say that reading Hemingway is like living a lucid dream, as ideas leap off the page into your head. And they stay there, like ribs between your teeth after a barbecue. By writing plainly, and not making the reader jump through literary hoops and ladders, Hemingway lets his ideas speak for themselves. And there are plenty in its 127 pages worth remembering.
The titular character is one of my favorites from recent memory. He is a poor Cuban fisherman whose glory days seem to be long past, but he could be any one of us, especially those of us reeling from this difficult year. His spirit is remarkable. He is lonely (though he has the touching adoration of a young boy), he is old, and he is salao , having gone for more than two months without catching any fish, but none of that stops him from picking up his mast, stringing his bait, and in general facing each new day as an opportunity to change his luck.
Being an optimist myself, of course I find all of that beautiful. However even more appealing than the old man's courage is his commitment to the moment. He draws spiritual energy from his dreams (the lions on the beach at dusk he saw as a youth), but he never lets nostalgia or wishful thinking hold him back, even during his epic struggle with a thousand-pound marlin in the middle of the Gulf Stream:
"You should have brought many things, he thought. But you did not bring them, old man. Now is no time to think of what you do not have. Think of what you can do with what there is."
It's a lesson all of us can do well to learn. How many times have we held ourselves back with thoughts of what might have been or what we could have done, instead of focusing on the present, which is the only time that really counts?
The ending is remarkably bittersweet. I won't spoil it for those who haven't had the  pleasure of getting that far, but perhaps it (and the whole story) is best summed up by these words.
"But man is not made for defeat. A man can be destroyed but not defeated."
Hope has many faces. There are those of us who dream of great things, but the fact of the matter is: most of us have to struggle even to get by. But if we keep up our efforts, even in the face of withering adversity, we have already won a first victory over failure.
» Filed Under Books, Everything and Nothing, Writing
Comments